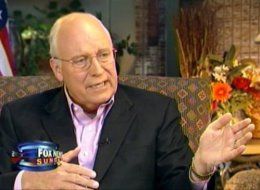 "IT WAS REALLY NO DIFFERENT THAN THE CURRENT PROPOSALS OF THE OBAMA ADMINISTRATION – BOTH CASES REALLY JUST INVOLVE THE DECISION TO DISCONTINUE EXTRAORDINARY TREATMENT."
Crooks & Liars with the latest Cheney B.S. on the CIA probe, and the responses of John McCain and George Will.
BuzzFlash's Mark Karlin: Kennedy Memorial Service Lays out the Contrast Between Dems and GOP: Service to the Nation or Service to the Self.
Dan Kurtzman with Political Cartoons of the Week.