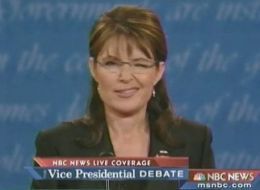 "JOHN McCAIN IS NOT UNDER BUSH-IET DOMINATION."
——————————————————————————————-
P.M. Carpenter at BuzzFlash on Rain Woman Palin.
Wasting no time, the late-night comics weigh in with the Vice Presidential Debate Jokes, via Dan Kurtzman.
Juan Cole on the VP Non-Debate.
And another true sign of the Apocalypse?  Faithful See Virgin Mary's Image in Toilet Bowl – at One Good Move.